---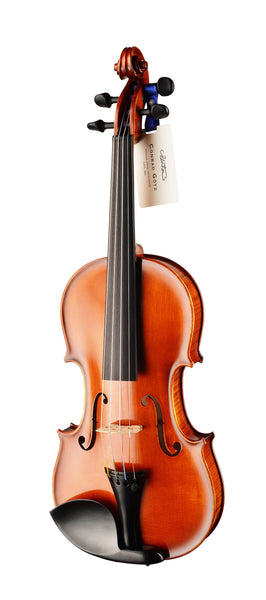 CONRAD GÖTZ Violin #107 AD
Series: AUDITION
🎼 Quality: 107

Light flamed neck and scroll
Reddish-brown hand-varnish
Thomastik Dominant Strings
🎼 Configuration:
Tailpiece: Original Götz ebony tailpiece
Chinrest: Guarneri chinrest Model
Wittner Fine-Tuning Pegs (easy of tuning in difficult situations)
Fine-tuner: Black fine-tuner for E-String
Bridge: Original Götz Bridge (german model in good quality)
Strings: Thomastik Dominant Strings
🎼 Varnish:
Reddish-brown hand-varnish with shades and gloss-finish
The Violin is robust and easy to re-polish
Special accuracy in processing corners and edges
🎼 The Quality of the Violin:
This series convinces with a nicely flamed back an sides as well as neck and scroll
Thoroughly crafted surface topographie of top and bottom
Ribs, necks, scroll and prufling are crafted thoroughly
Each Violin is unique. The flames may differ marginally from each other.
All our instruments have a certificate of origin, individually for each instrument.
---
Case:
The recommended Case for the AUDITION Series ist the BAM Performance Violin model PERF2002SN
This case can be purchased either with the violin (additional option)
Suitable products for you